Selma Gokcen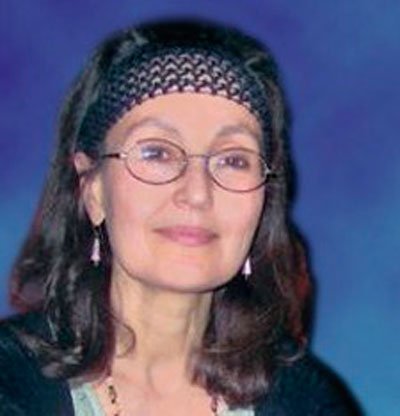 Born in America of Turkish parentage, Selma Gokcen has received critical acclaim for her imaginative programming. Working alongside the Beaux Arts Trio cellist Bernard Greenhouse and the composer Jonathan Kramer, she presented a programme at London's Southbank Centre, in New York and at the Kennedy Center in Washington, DC titled Pablo Casals: Artist of Conscience, celebrating the life and music of the legendary cellist.
Miss Gokcen has performed with L'Orchestre de la Suisse Romande, the Presidential Symphony in Ankara, Istanbul State Symphony Orchestra, Houston Symphony, North Carolina Symphony and Aspen Philharmonia, among others. Her recital appearances have taken her to such cities as Boston, New York, Washington, DC, Los Angeles, Palm Beach, Charleston, SC, and to Belgium, Italy and Turkey. In South America, she has toured under the auspices of the U.S. State Department. She has concertised in Australia and New Zealand, and given masterclasses in Sydney, Melbourne, Auckland, Wellington and Christchurch.
In the People's Republic of China, she was invited to give a series of recitals and masterclasses in Shanghai, Sichuan province and Beijing. She was chosen by one of Spain's leading composers, Xavier Montsalvatge (1912–2002), to record his complete works for cello. She has also recorded Songs and Dances: Works for Cello and Piano with John Lenehan in Switzerland (Gallo, 1999).
In addition to solo appearances, Miss Gokcen is an accomplished chamber musician and has participated in the Chamber Music West Festival in San Francisco, Southeastern Music Festival, Hindemith Festival in Oregon, and the Accademia Musicale Chigiana in Siena.
As a trained Alexander Technique teacher, she has been invited to give workshops around the world called The Well-Tempered Musician and The Miracle of Coordination, which address movement and coordination in string playing and performance.
Miss Gokcen holds the Doctorate of Musical Arts, as well as Bachelor's and Master's degrees from the Juilliard School, where her teachers included Leonard Rose, Channing Robbins, William Lincer and Robert Mann. She was awarded a First Prize from the Geneva Conservatory of Music as a pupil of Guy Fallot, and also studied privately with Pierre Fournier.
Miss Gokcen currently resides in London, where she is a member of the faculty of the Guildhall School of Music. She has produced a series of films about the teaching of William Pleeth – William Pleeth: A Life in Music in eight volumes – and Bernard Greenhouse – Bernard Greenhouse at Wigmore Hall.
As Chair of the London Cello Society, which she co-founded with the cellist Keith Harvey, Miss Gokcen oversees a series of public concerts, lectures and educational events. The Society can be reached at: www.londoncellos.org
Kenneth Cooper
The American harpsichordist, pianist, conductor, musicologist and pedagogue, Kenneth Cooper, was trained at New York's High School of Music and Art. Afterwards, he studied harpsichord with Sylvia Marlowe at the Mannes College of Music (1960–1963) and pursued his education with Lang, Moore and Luening at Columbia University (BA, 1962; MA Graduate Faculties, 1964; PhD Graduate Faculties, 1971).
In 1965, Kenneth Cooper made his debut as a harpsichordist at London's Wigmore Hall. His US debut followed in 1973 at New York's Alice Tully Hall. In subsequent years, he toured widely in the USA and abroad. He was one of the world's leading specialists in the music of the eighteenth century and one of America's most exciting and versatile performers. Renowned for his improvisations and his expertise in ornamentation – long-lost eighteenth-century arts – he revived countless musical works, lending them extraordinary authenticity as well as great vitality. His comprehensive repertory embraced works from the early keyboard era to the avant-garde. He gave première performances of works by George Flynn, Daniel Paget, Seymour Barab, Noel Lee, Ferruccio Busoni, Paul Ben-Haim, Ernst Krenek among others, as well as dozens of modern-day revivals.
As music director of the Berkshire Bach Ensemble, Kenneth Cooper made a tradition of the New Year's performances of the Bach Brandenburg Concerti and instituted a series of Concertofests in the style of Bach's Collegium concerts at Zimmermann's Kaffeehaus. He was co-director (with Henry Schuman) of the legendary Our Bach concerts and was featured on Live from Lincoln Center as soloist in Bach's Brandenburg No. 5 with the Chamber Music Society of Lincoln Center, and the mini-series The Adams Chronicles, Channel 13.
Kenneth Cooper made numerous guest appearances and festivals. He was heard regularly at the Temple of Dendur (Metropolitan Museum of Art) with Paula Robison, the Grand Canyon Music Festival, the Washington Square Park Concerts, the Sherman Chamber Ensemble, the Yale-Norfolk Summer Chamber Music Festival and the Little Orchestra Society's Vivaldi festivals at Alice Tully Hall. He appeared with the Bridgehampton Chamber Music Festival and with Music at Menlo. He performed as a soloist and guest conductor with the American Symphony, Detroit Symphony Orchestra, Ohio Chamber Orchestra, Northwest Chamber Orchestra and Mostly Mozart Festival.
Kenneth Cooper taught at Barnard College (1965 [Baker]–1967 [Who's Who]–1971), and was Adjunct Assistant Professor at the Brooklyn College of the City University of New York (1971–1973).
He served as professor of harpsichord and director of Collegium at the Mannes College of Music (1975–1985); as visiting specialist in performance practice at Montclair State College in New Jersey (1977–1992); as artist-in-residence at Columbia University (1983–2021); and as director of Graduate Seminars in Baroque practice and conductor of the Baroque Orchestra (Baroque Aria Ensemble) at the Manhattan School of Music (1984–2021). He gave Graduate Workshops in Performance Practice at the Peabody Conservatory of Music (1987–2021), and has had many residencies and guest appearances and lectures.
Over the past four decades, Kenneth Cooper has made dozens of recordings and soundtracks, among them: Bach: Harpsichord Music, Vol. 1 (Musical Heritage Society, 1989); George Frideric Handel: Theatre and Outdoor Musick (Vanguard, 1978); G.F. Handel/Scarlatti: Cantatas with Judith Blegen; J.S. Bach: Sonatas for Viola da Gamba and Harpsichord with Yo-Yo Ma (CBS, 1978); J.S. Bach/G.F. Handel: The Sonatas for Flute and Harpsichord with Paula Robison (Vanguard, 1976); Domenico Scarlatti: Sonatas for Harpsichord, Vols 1 and 2 (Vanguard, 1975); J.S. Bach Brandenburg Concerti and Goldberg Variations (BWV 988) (Berkshire Bach Society, South Egremont, Massachusetts). His spectacular versions of ragtime and other American delights may be heard on Silks and Rags (EMI, 1991) and Should Auld Acquaintance Be Forgot (Musical Heritage Society, 1989). He is also heard on Mother Goose and More (UNIFEM/Classic Raps), on the video game Louis Cat Orze (1995), on the documentary Van Gogh Revisited (Jean-Pierre Isbouts, 1988), and on the soundtracks of Before Sunrise (dir. Richard Linklater, 1995) and Valmont (dir. Miloš Forman, 1989). He recorded on fortepiano the complete JS Bach: The Sonatas for Flute and Fortepiano: The Partita for Solo Flute with Susan Rotholz (Bridge, 2002), and J.S. Bach: Six Sonatas for Violin and Fortepiano with violinist Ani Kavafian (Helicon, 2004).
His publications include: Monteverdi: Tirsi e Clori (Pennsylvania University Press, 1968); and Three Centuries of Music in Score (Garland, 1988). He contributed to: Current Musicology; The Musical Quarterly; Stagebill; Opus; High Fidelity; MGG; and Vanguard. Among Kenneth Cooper's extensive musical writings is his 1984 Playbill article "Bach's Call to Action", in which he wrote: "How Bach regarded [his mentor] Buxtehude is how we might well recognize Bach: as a master, not a god; filled with delight, respect and admiration, not worship; and stimulated to a human response, not a mindless, mechanical or methodological one… The great master would have desired us to be fired into action, not awed into obedience."